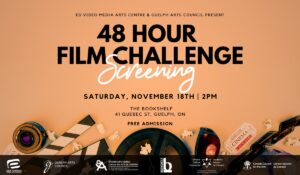 Saturday, November 18th | 2PM
The Bookshelf, 41 Quebec St., Guelph ON
FREE ADMISSION
At the end of October, Ed Video and the Guelph Arts Council issued a challenge to creatives in the Guelph area: form a team and create a film in just 48 hours. Against all odds, ten teams accepted the challenge and produced remarkable films guided by only three prompts. Now, it's time to see the fruits of their labour!
Join us at the Bookshelf Cinema for the official 48 Hour Film Challenge Screening, where each team's work will be presented for the public to enjoy. The Challenge judges will also be present to award prizes in various categories, such as Best Performer, Best Sound Design and of course, Best Film. Admission is FREE, so don't miss out on this exciting showcase!
Reserve your tickets HERE