By Adam McCaffery
Published September 28, 2023
On Saturday, September 23, 2023, Ed Video Media Arts Centre participated in Guelph's Praise the Ward event with a special weekend gallery opening followed by an audio-visual debut of a dance record by SLEDD (Evan Gordon).
Praise the Ward celebrated Guelph's uniquely tight-knit and artistic neighbourhood of the Ward. The event hosted artistic performances, visual art displays, craft vendors, local cuisine sales, and more.
Once a working-class neighbourhood distinguished by its industrial structures—the Ward's trajectory (familiar to these kinds of communities) has seen it transform into a cultural hub for artistic expression.
Today, the neighbourhood boasts a diverse cultural and artistic scene comprised of prolific artists, creative centres, and local events.
Ed Video, located within the Ward at 404 York Road, which is typically closed on weekends, opened its doors at 11:00 A.M. for neighbourhood revellers to come in and enjoy the exhibition currently hosted at the centre's gallery—Piece of Me by Kadrah Mensah and Wei Li.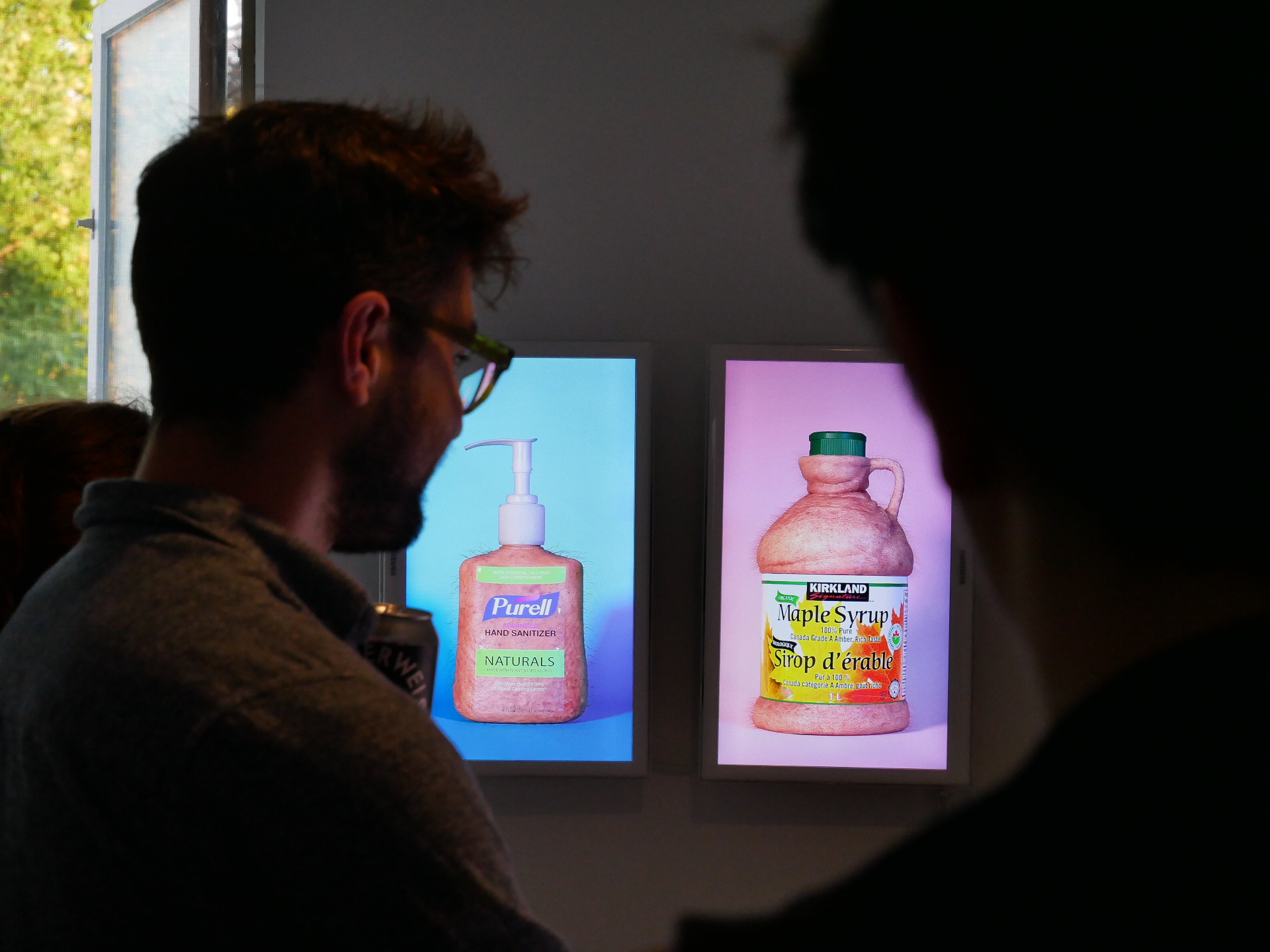 Pictured above are two pieces from Wei Li's half of Piece of Me
The two-person exhibition employed a series of 3D digital images to "explore themes related to self as commodity, paradoxes, and consumer goods."
Featured on Ed Video's gallery screens was a diverse collection of images ranging from unsettling, fleshy condiment bottles to sequences of running, jumping, and flying 3D figures. Also included in the exhibition was a custom-made 'air dancer' that mirrored the distorted figures portrayed on-screen.
Together, the pieces of this artistic collection invoked discordant feelings of humour, unease, and curiosity in gallerygoers as they experienced the exhibition.
Following the exhibition opening, celebrators moved from the gallery into Ed Video's back studio to experience SLEDD's newest dance music project alongside a dazzling DMX lighting display and visual projection show.
Onlookers watched what Evan Gordon described as a 'synergetic feedback tunnel,' where lighting rigs and visual projections reacted accordingly to his musical beats.
Evan Gordon is a long-time affiliate of Ed Video who's been celebrated for his synthesis of music, digital animation, and creative lighting.
His uniquely visual concert for Praise the Ward filled Ed Video's studio with an audience of over 70 people.
Praise the Ward also allowed Ed Video to showcase its recently constructed gallery and renovated studio space to the public. Previously, Ed Video had not had a gallery space of its own to host exhibitions and primarily installed off-site.
The recent addition of a gallery to the centre has created new opportunities for Ed Video to showcase Canadian media arts and the creations of Guelph's thriving artistic community through the capacity to host artists' work right in the centre.
Enriching media art displays would not be possible without the talented artists who envision and create them. Both of the individuals behind Piece of Me possess a unique mastery of visual art and digital rendering while providing insightful looks into themes of identity in a material world.
Kadrah Mensah, the Toronto-based artist behind the Surely You're Joking half of Piece of Me is an explorer of how the body engages with the digital world. Mensah intersects these profound explorations with humour—a deeply ingrained characteristic of the internet. On the other side of Piece of Me, Calgary-based artist and Chinese Canadian Wei Li investigates her identity as an immigrant through her artistic work.
Piece of Me followed Ed Video's previous exhibition, An Obituary, by the centre's recent artist-in-residence Carmen Mattear. The body of work, which Mattear worked on during her residency at the centre, focused on the links and disconnections between sound, nostalgia, and personal artifacts that call forth feelings of gratitude.
The creative mastermind behind SLEDD, Evan Gordon, is a Guelph-based music producer and media artist who ventures into the genre of electronic dance music. His concerts and performances are often accompanied by complex lighting displays and digital animations to create an immersive audio-visual experience.
Gordon was a recipient of Ed Video's Kenny Doren Award in 2019—an annual prize awarded to highly talented media artists who work within the field of audio.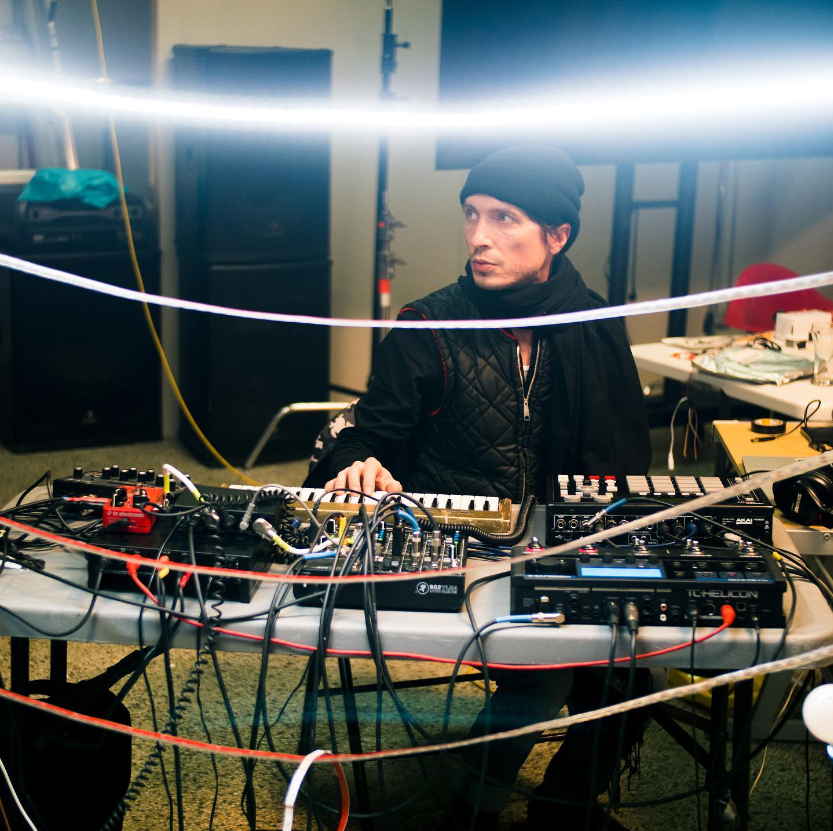 Evan Gordon pictured above at Ed Video
The Kenny Doren Award is one of many ways in which Ed Video supports and facilitates Canadian media arts and Guelph's artistic community.
Since 1976, Ed Video has been servicing Guelph and the wider region with regular media art installations, educational workshops, affordable equipment rental opportunities, grants, and community building. Moreover, Ed Video has been contributing to the broader legacy of Canadian media arts through the facilitation of numerous media arts projects throughout the country and abroad.
Members and community affiliates include renowned media artists, filmmakers, TV news reporters, podcasters, radio hosts, curators, writers, and more.
Since moving in 2014 to its current location in the Ward, Ed Video has become a special contributor to the neighbourhood's unique artistic character.
This year, the centre has picked up steam in recovering from the COVID-19 pandemic, having sped up the frequency of workshops and events while leveraging its new gallery space to bring artists, enthusiasts, and community members back into the space.
Going forward, the team at Ed Video hopes to continue engaging with media artists, learners, and other members of the community through upcoming exhibitions, workshops, and events such as the Guelph 48-Hour Film Challenge in October.