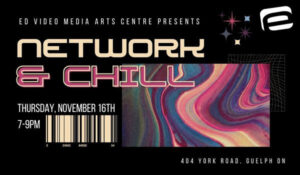 Ed Video is hosting a free mixer for media artists! This networking event will bring together Ed Video Members, local artists, makers and the community at large.
Thursday, November 16th
7-9PM.
Ed Video Media Arts Centre
Join the Ed Video staff, board, and community for an evening of connection and collaboration, as well as drinks and snacks! Share your latest project, discuss the latest techniques you've been perfecting, or simply catch up with the Ed Video community and meet some new people.
We can't wait to see you! Don't miss this fantastic opportunity to connect and collaborate.